"The Great Society is where men are more concerned with the quality of their goals than the quantity of their goods"⊙ 연설의 배경

케네디 대통령의 갑작스런 서거로 미국 대통령이 된 린든 존슨은 취임하자마자 위대한 사회의 건설을 기치로 내걸고 과감한 복지 교육정책을 실현했다.
이 연설은 그가 추진하려는 위대한 사회에 대한 의미를 잘 나타내고 있는 명연설문이다.
⊙ 린든 B 존슨(Lyndon Baines Johnson · 1908~1973년)
1908년 텍사스에서 태어났으며 루스벨트의 천거를 받아 정계에 진출했다.
전형적인 민주당 의원으로서 미국 남부의 권익을 대변했다.
케네디가 대통령으로 당선되면서 부통령 직책을 맡아 수행했으며 케네디가 서거하자 대통령을 맡았다.
이후 1964년 미국 대선에서 압도적인 지지로 승리해 제 37대 대통령이 됐다.
그는 재임기간 동안 위대한 사회를 슬로건으로 내걸고 과감한 진보적 정책을 많이 수행했다.
⊙ 원문 읽기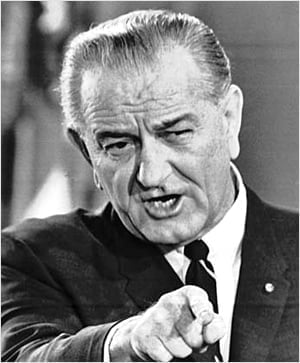 President Hatcher,Governor Romney,Senators McNamara and Hart,Congressmen Header and Staebler,and other members of the fine Michigan delegation,members of the graduating class,my fellow Americans;
It is a great pleasure to be here today.
This university has been coeducational since 1870,but I do not believe it was on the basis of your accomplishments that a Detroit high school girl said,"In choosing a college,you first have to decide whether you want a coeducational school or an educational school."
Well,we can find both here at Michigan,although perhaps at different hours.
I came out here today very anxious to meet the Michigan student whose father told a friend of mine that his son's education had been a real value.
It stopped his mother from bragging about him.
I have come today from the turmoil of your Capital to the ①tranquillity of your campus to speak about the future of your country.
The purpose of protecting the life of our Nation and preserving the liberty of our citizens is to pursue the happiness of our people.
Our success in that pursuit is the test of our success as a Nation.
For a century we laboured to settle and to subdue a continent.
For half a century we called upon unbounded invention and untiring industry to create an order of plenty for all of our people.
The challenge of the next half century is whether we have the wisdom to use that wealth to enrich and elevate our national life,and to advance the quality of our American civilization.
Your imagination,your initiative,and your indignation will determine whether we build a society where progress is the servant of our needs,or a society where old values and new visions are buried under ②unbridled growth.
For in your time we have the opportunity to move not only toward the rich society and the powerful society,but upward to the Great Society.
The Great Society rests on abundance and liberty for all.
It demands an end to poverty and racial injustice,to which we are totally committed in our time.
But that is just the beginning.
The Great Society is a place where every child can find knowledge to enrich his mind and to enlarge his talents.
It is a place where leisure is a welcome chance to build and reflect,not a feared cause of boredom and restlessness.
It is a place where the city of man serves not only the needs of the body and the demands of commerce but the desire for beauty and the hunger for community.
It is a place where man can renew contact with nature.
It is a place which honours creation for its own sake and for what it adds to the understanding of the race.
It is a place where men are more concerned with the quality of their goals than the quantity of their goods.
But most of all,the Great Society is not a safe harbour,a resting place,a final objective,a finished work.
It is a challenge constantly renewed,beckoning us toward a destiny where the meaning of our lives matches the marvellous products of our labour.
So I want to talk to you today about three places where we begin to build the Great Society - in our cities,in our countryside,and in our classrooms.
Many of you will live to see the day,perhaps 50 years from now,when there will be 400 million Americans - four-fifths of them in urban areas.
In the remainder of this century urban population will double,city land will double,and we will have to build homes,highways,and facilities equal to all those built since this country was first settled.
So in the next 40 years we must rebuild the entire urban United States.
Aristotle said; "Men come together in cities in order to live,but they remain together in order to live the good life."
It is harder and harder to live the good life in American cities today.
The catalogue of ills is long; there is the decay of the centres and the despoiling of the suburbs.There is not enough housing for our people or transportation for our traffic.
Open land is vanishing and old landmarks are violated.
Worst of all,expansion is eroding the precious and time honoured values of community with neighbours and communion with nature.
The loss of these values breeds loneliness and boredom and indifference.
Our society will never be great until our cities are great.
Today the frontier of imagination and innovation is inside those cities and not beyond their borders.
New experiments are already going on.
It will be the task of your generation to make the American city a place where future generations will come,not only to live but to live the good life.
I understand that if I stayed here tonight I would see that Michigan students are really doing their best to live the good life.
This is the place where the Peace Corps was started.
It is inspiring to see how all of you,while you are in this country,are trying so hard to live at the level of the people.
A second place where we begin to build the Great Society is in our countryside.
We have always prided ourselves on being not only America the strong and America the free,but America the beautiful.
Today that beauty is in danger.
The water we drink,the food we eat,the very air that we breathe,are threatened with pollution.
Our parks are overcrowded,our seashores overburdened.
Green fields and dense forests are disappearing.
A few years ago we were greatly concerned about the "Ugly American."
Today we must act to prevent an ugly America.
For once the battle is lost,once our natural splendour is destroyed,it can never be recaptured.
And once man can no longer walk with beauty or wonder at nature his spirit will wither and his ③sustenance be wasted.
A third place to build the Great Society is in the classrooms of America.
There your children's lives will be shaped.
Our society will not be great until every young mind is set free to scan the farthest reaches of thought and imagination.
We are still far from that goal.
▶ Words & Idioms
① tranquillity : 고요함, 침착함
② unbridled : 구속을 받지 않은
③ sustenance : 생계, 양육